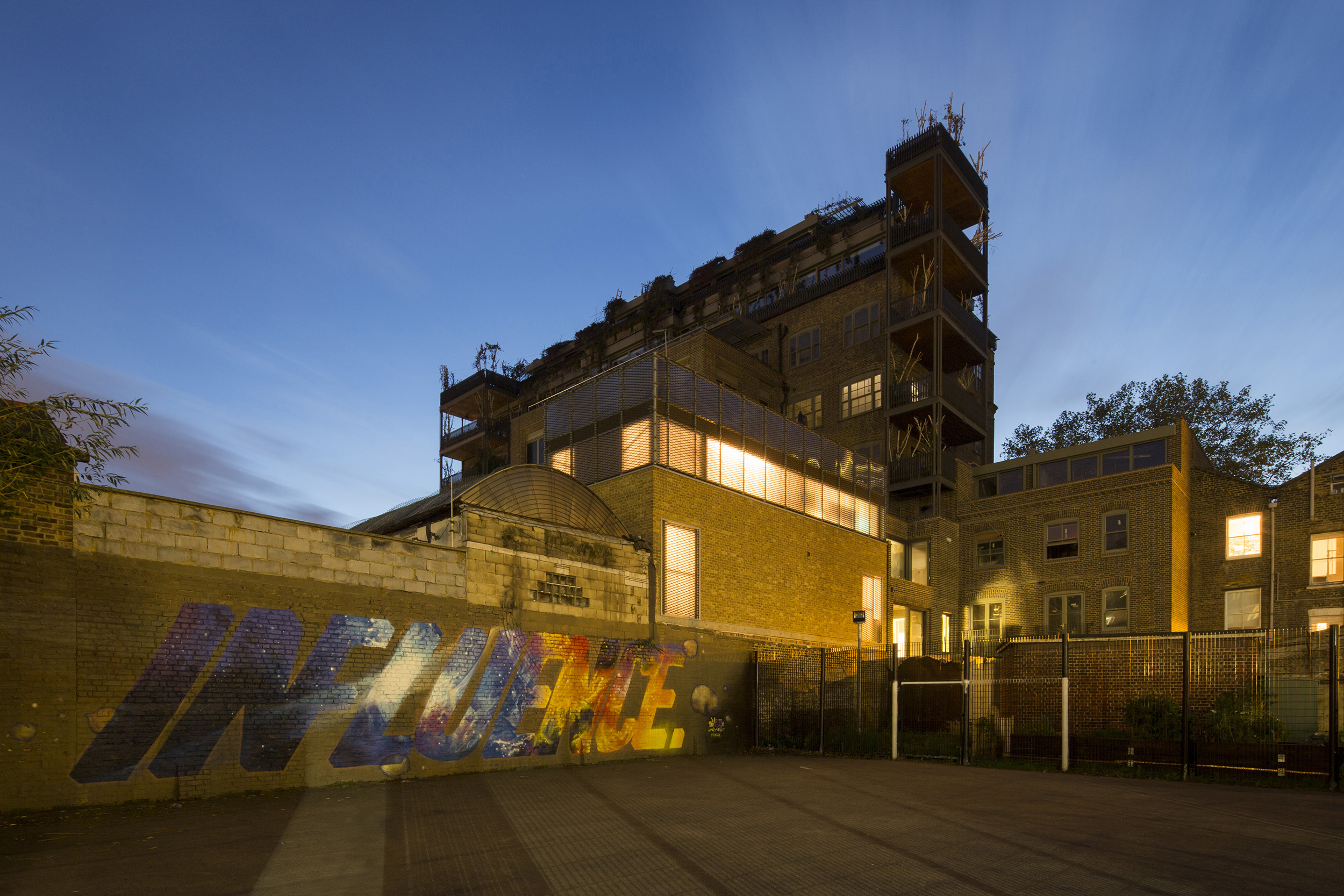 POP-UP UTE
LIGHTWEIGHT EXTENSION

Winner of the New London Architecture Don't Move Improve 2018 Awards Special Prize for Most Innovative Project. A new lightweight two storey roof extension and terraces tripling the size of the existing artist studio and brought clarity to the interior by separating living and studio spaces, across two floors to form a back-drop for fashion / portrait photography.

Inspired by self-builder client, photographer Jonathan Root's, interest in custom finishes of mid-century modern furniture and automobiles, the Pop-Up Ute* drew on practice research into designs for manufactured assembly (DfMA) to make a custom-affordable lightweight single storey roof extension. This modest reuse of an existing brownfield industrial heritage site, dating from 1860, on the Chappell's Piano factory attempts to evoke the host DNA deploying contemporary industrial materials with target utilitarian precision, similar to how the original piano factory was extended and added to. Made from a kit of lightweight parts to speed up the assembly and reduce construction waste the project was a testbed for some of the latest circular economy techniques including manufactured assembly processes encouraged by the London Mayor in recent initiatives to make additions to the built environment quicker and more affordable through self-build kit assembly and off-site manufacturing.

Owing to the uncertain status of the existing foundations, the new addition was designed to balance the overall weight of the host building, requiring a concept of subtracting the heavier historic construction elements to free up and extend with ultra-lightweight additions. Existing heavy brick walls were demolished and replaced with lightweight super-insulated panelised timber walls clad in lighter brick slips to retain heritage appearance of the brick host. Super insulative frosted polycarbonate kit assembly walling wraps the light filled living room, overclad in analok bronze-coloured aluminium rain baffles that form a privacy screen and balustrade to a new stair and roof terrace. The custom kit build components were scaled to fit the site allowing the client to self-build with ease, reducing costs, construction waste and minimising the carbon footprint, super green qualities that contributed to it winning the most innovative house at the Don't Move Improve Awards in 2018.

Final phase of work was completed in 2022 and shortlisted for the Camden Design Awards.

*A ute – an abbreviation for "utility".

CLIENT
Johnathan Root

COMPLETED